-Red is currently 16 months old-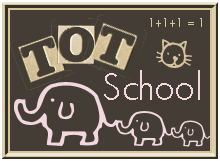 Theme: Zoo, Squares
We had another fun week of activities. Red and I talked a lot about squares. I made him a basket full of household objects that are squares.
He also had a tray with skeletons and mini pumpkin containers to practice his one to one correspondence. He still doesn't understand the concept of one item per container, but he enjoys manipulating them.
As you can see, he enjoyed stretching the skeletons :)
He had another tray with drink stirrers to stick in a wiffle ball with holes. He loved this work. It joined his love for sticking things in holes with his love for balls.
Another fun toy was his jumping frogs. He couldn't make them jump by himself, but he like to watch me jump them and say "bit bit" for "ribbit ribbit."
He also played with his geo sorter.
And worked on his peg board. His favorite was stacking them to make tall towers.
And he also worked his puzzle a little. He knows almost all the shapes in it but can't always fit the pieces in the right way.
Books
We read Good Night, Gorilla by Peggy Rathmann. This is a really cute book. It doesn't have many words, but Red's dad and I make up sound effects for some of the scenes, and Red has started to imitate them. He loves this book.
Music
We listened to We're Going to the Zoo by Raffi and played our instruments daily.
Sensory
Art
Practical Life
After we made the shape garbage truck and watched some You Tube videos of trash trucks, I showed Red how we take the trash out to the dumpster. This will not be something he will be able to do, but it should help him start to think about what happens to our trash.
Fun
Red took his first trip to the zoo this week. We had a lot of fun looking at the animals. I think the otters were his favorite. We took a lot of photos, and then I made a memory book like
this
for him to look at and remember all the animals.
For more great tot school ideas, visit tot school at 1+1+1=1.