-Red is currently 18 months old-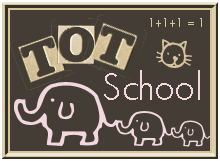 Theme: Green, Christmas Trees
We had a fun week of tot school this week. Here are our shelves.
Top-Left Cubby: Basket filled with green household items. Red enjoyed trying to pour the items out of the pitcher.
Top-Right Cubby: Magneatos. He enjoys these but wants to try to throw the ball-shaped pieces, so they get taken away a lot…
Middle-Left Cubby: Melissa & Doug Noah's Ark Shape Sorter. He liked to put all the pieces in one hole--so not much sorting going on, but he enjoyed naming all of the animals.
Middle-Right Cubby: Foam Blocks
Bottom-Left Cubby: Putting mini pine cones through a tube into a bowl. He liked doing this a lot, and the pine cones made a fun noise when they fell into the ceramic bowl.
Bottom-Right Cubby: Matching Christmas erasers. He preferred to name and stack them.
Books
Our Christmas tree themed library books:
His favorites were Max & Ruby's Christmas Tree (because it included a helicopter) and The Littlest Christmas Tree.
Music
Oh Christmas Tree, of course!
Sensory
We played with sensory balloons with different fillers.
Art
And we made a Christmas tree out of shapes.
Fun
Our fun activity was putting up our Christmas tree! We've enjoyed listening to Christmas music and getting into the holiday spirit (notice the Christmas PJs :)