-Red is currently 19 months old-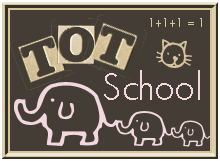 Theme: Snow
The weather has been crazy this week. We've had days in the 60's and days where the windchill was 5. But we did get one good day of snow, which was perfect for our theme! On the shelves this week:
Honeybee Tree game. We practiced taking turns and putting the leaf stems into the holes.
Pouring beans. He really enjoys pouring activities, and does a pretty good job. It's good practice for cleaning up spills too.
Putting stir sticks in a parmesan cheese container. This is another favorite. He likes working on snapping the lid open and closed too.
Blue basket. He learned some new vocabulary—sponge, crepe paper.
Blocks. He got these really cool blocks for Christmas. He loves putting the smaller pieces inside the larger ones.
Thread spools, washers, and dowel rods (oh my!). Red loves this homemade toy. The spools are more challenging to thread onto the dowels, but the washers make such a great clanking noise. So much to love!
Books
We got a lot of great snow-themed books from the library this week.
Red and I had differing opinions on our favorite books this week. He loved Snow Happy and Mouse's First Snow, but I was partial to It's Snowing, and I loved Snow Party.
Sensory
Red played with his winter sensory bin.
And he also got his hands in some snowy play dough. I added silver and white glitter to this play dough recipe.
Food
Edible snowballs. We made some awesome peanut butter snowballs.
Art
Snowflake prints. Red made this fun snowflake with a paint roller and a paper snowflake.
Ice cube painting. He got his hands chilly with some frozen paint.
Snow scene painting. And he made a snow scene that turned into a blizzard!
Fun
Heading out to play in the snow!
Lots of snowy fun! Linking up to tot school at 1+1+1=1.