-Red is currently 18.5 months old-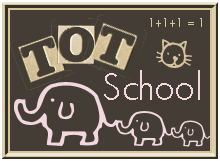 Theme: Christmas
This post is very late this week. We had a busy holiday and then a nasty flu bug hit our house, so I've had trouble catching up! Here are the shelves from last week.
Top-Left shelf had a tray with pipe cleaners to push through a can strainer. In retrospect, this would have been a little easier for him with dried spaghetti or something that doesn't bend.
Top-Right cubby held a puzzle and a basket full of Christmas-themed objects.
I included some wrapping paper squares to let him practice matching. He did this for a second, but was more interested in crumpling them up.
Middle-Left cubby had a tray with clothespins to slide onto the edge of a cup. Red likes this work.
Middle-Right cubby held his Noah's Ark shape sorter. He likes to name the animals, and he can sometimes match them up.
Bottom-Left cubby had his counting bears. He is doing well at sorting these by color. He also likes to nest and stack the cups.
Bottom-Right cubby held his foam blocks. He discovered that some of them have holes with circle pieces that fit inside and spent quite a bit of time putting the circles in and out.
Books
We got several Christmas books from the library this week.
His favorite was definitely If You Take a Mouse to the Movies by Laura Numeroff. His second was Christmas in the Manger by Nola Buck. I liked the rhyme in Madeline's Christmas by Ludwig Bemelmans, and the writing was really good in The Christmas Magic by Lauren Thompson. The other two, Christmas in the Barn by Margaret Wise Brown and Bear Stays Up for Christmas by Karma Wilson, didn't get as much reading time.
Music
We sang a lot of Christmas carols this week. His favorite is Silent Night, and he likes Jingle Bells and Deck the Halls too.
Food
We made and decorated Christmas cookies for Santa! Red put on the sprinkles, and it was great fine motor practice.
Art
Red made foam Christmas ornaments for us and his grandparents to hang on our trees.
Fun
Red played with a Christmas-y window cling,
Visited Santa
And opened presents on Christmas morning!
Linking up with Tot School at 1+1+1=1. We'll be taking a couple week off and then starting back with some new phonics work in 2012!