-Red is 18 months old-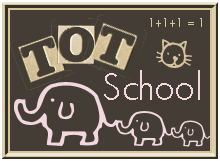 Theme: Triangles, Houses
We had a fun week of tot school activities. Here are the shelves:
Top-Left Cubby: Flip Flop Faces game. This is a fun way to work on color matching. It involves one of Red's favorite pasttimes—throwing things.
Top-Right Cubby: Basket filled with triangle-shaped objects. I love how he took the largest triangle and filled it with the smaller ones :)
Also in the Top-Right Cubby was a puzzle. Red still has little interest in puzzles. This one was a little more advanced. I was hoping it might pique his curiosity. No such luck.
Middle-Left Cubby: A pouring exercise. Pouring pom poms from a pitcher into a bowl. This was Red's first attempt at pouring, and he did really well. He loved this work.
Middle-Right Cubby: Lacing Beads. This was also his first time trying the lacing beads. He like to play with them as blocks and also to name the shapes. He preferred me to string them, though.
Bottom-Left Cubby: Putting popsicle sticks into the holes of an empty parmesan cheese container. He liked this one a lot.
Bottom-Right Cubby: Putting 'jewels' into the holes in a paint tray. Red was able to really 'get' the one-to-one correspondence for the first time this week. Yay! He consistently put one in each space.
Books
We checked out several house-themed books from the library. Red's favorites were On Meadowview Street, Not Inside This House, and In a People House. They were all great books, though!
Sensory
Red played with his Christmas sensory bin a lot this week.
Art
Red created a house out of shapes. He also did plenty of coloring and painting, as usual!
Fun
We made a gingerbread house to end our week. Red enjoyed this a lot—especially when he discovered how good the frosting tasted :)
Check out more tot school at 1+1+1=1.