-Red is currently 19.5 months old.-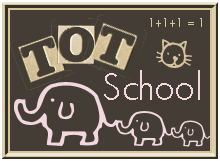 Theme: Snowmen
This week in tot school we had fun with snowmen! Here are the trays and learning toys:
1. Sprinkle Canister Snowman. I got the idea for this here at No Time for Flash Cards. It's just three small containers (spice jars also work great) filled with cotton balls. Then you can draw or glue on the snowman decorations and let your little one stack them up.
2. Spooning Pom Poms into a Paint Tray. Red had trouble with the spoon, so he just transferred them with his fingers.
3. Learning Links. These are still too difficult for Red to link together, but he enjoys playing with them in a chain and sorting them by color/shape.
4. Puzzles. Red did a great job matching up these puzzle pieces, but he has trouble fitting them together.
5. Dyed Clothespins and String. I dyed some clothespins and string so Red could match them by color and thread the clothespins onto the string. He did great at color matching, but the threading was difficult for him.
6. Photograph Block Puzzles. See this post for more on photo blocks. Red enjoyed playing pretend with the block people. He put them to bed and let them eat a snack with him.
Books
Here are our snowmen library books for the week:
I loved this book! The writing was wonderful, and it had a great message of following your heart and not being afraid. Red, on the other hand, would not sit still for this one. He barely let me finish the first page before moving on to another book.
Red loved this one, and I liked it too. It had wonderful bright illustrations, and a cute little repetitive rhyme. Red loved the "AAACHHOO" and finding the birds on every page.
Red and I both liked this one as well. It was a great book about winter that also incorporated the alphabet. It centers around God and enjoying his creation. Red was captivated by the artwork.
Red liked this book a lot. The snowman is covered in glitter that is fun to feel. He would run his fingers over the snowman on every page. I did not care for this one as much, though. The idea of a snowman watching over you is a little strange.
Surprisingly, Red sat through this book on a couple occasions. It's pretty long and geared for a little older children, I think. It's about a brother and his little sister who always wants to help but ends up spoiling things. I think we both thought it was just okay.
Red liked this one a lot. It's about a snowman who has to learn the "magic of giving" before he can bring snow to boys and girls. I didn't love this one. I didn't get why Sam had so much trouble with giving…he seemed nice enough…just a little slow, I guess.
This last book wasn't about snowmen, per se, but it fit in with the mitten matching activity we did. Red and I both enjoyed this classic tale about a boy's lost mitten.
Sensory
Red continued to play with his winter sensory bin.
He also played some more with the 'snow' play dough I made using this recipe. We spread it out like a blanket of snow and made animal tracks.
He also made a sensory mess with the homemade puff paint he used on his puff paint snowman.
Art
Red painted some mittens and matched them up by color for this fun Mitten Match extension to the book The Mitten by Jan Brett.
See what other tots are up to over at 1+1+1=1.