-Red is currently 19.5 months old-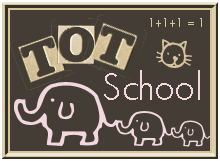 Theme: Penguins
Tot Trays & Learning Toys
1. Ring-a-Thing by HABA. Red enjoyed this game. We played it a few times with him rolling the die and putting the matching ring on the peg people. He also just loved to play with them freely—stacking the rings and moving peg people around.
2. Color Matching Puzzle. I like this puzzle because it focuses solely on matching the colors. It's a little different from most of Red's other puzzles, which all have to do with the shape of the piece. Whenever he gets one wrong he will often correct it before moving on.
3. Tolo Shape Sorter. I really like this shape sorter. Red has gotten good at flipping it over to find the correct hole. He's had this one since he was very young, and it's neat to see how far he's come with it.
4. String a Farm. Red isn't very good at lacing yet, but he helps me do it and has fun sliding them off again.
Red enjoys playing with the pieces on their own as well!
5. Heuristic Play Basket. See this post for more information on heuristic play. In the future I plan on developing this idea into baskets that will be available to Red at all times, like these Discovery Boxes at Imagination Tree.
6. Shape Sequence Sorting Set (that's a tongue twister!). Red enjoys this toy quite a bit. He isn't able to sequence them by size, but he is pretty good at fitting the pieces together.
7. Wedgits. We always have fun playing with these. It seems like there's no wrong way to stack them, which is perfect for a toddler learning to build things.
Books
We had a lot of great penguin-themed books from the library, but for some reason Red was resistant to new books this week, preferring his usual favorites that we own.
This book gave a very realistic look into the lives of penguins—it briefly touched on the difficulties associated with breeding, predators, etc.—but it was still appropriate for young children. It was too advanced for Red, though. He never let me get past the first couple pages.
Red and I both liked this one a lot. It's a cute story that shows the value of being different—Tacky vs. his companions Goodly, Lovely, Angel, Neatly, and Perfect. Very cute book.
This was a good little book to work on counting, and it featured real photographs of penguins in various situations. I like to have books with real photographs whenever I can. It had quick little rhymes, which helped to hold Red's attention too.
This book was okay. Red didn't really care for it too much, but that's probably just because it's geared for children who are a little older. The polar bear is dismayed when he can't play with a friend made out of snow, but it has a happy ending when he finds another live polar bear to play with.
This book is another one the features real photographs of penguins in different situations. It has brief text explaining the activities of baby penguins. This book got stuck on his shelf in his room and overlooked for most of the week, but I think Red would have warmed up to it if we'd gotten it out more.
Sensory
Red had some tasty, squishy, messy fun when we played with mashed potato snow.
He also enjoyed some water play with our arctic sea tub.
Fun
I made a snowy glitter jar for Red. He enjoyed watching the glitter swirl and fall like snow.
See what other tots are learning about at 1+1+1=1.