-Red is currently 20 months old-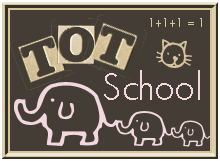 Theme: Valentine's Day
Tot Trays & Learning Toys
1. Color Puzzles. Red is really good at matching up the color pieces in this puzzle. He still struggles to snap the pieces together, though.
2. Magnetic Fishing Numbers. Red doesn't recognize his numbers yet, but he likes to count and name the fish as he picks them up. This is a great game for concentration and hand-eye coordination.
3. Twig Blocks. This is a really fun set of blocks that we all enjoy. Red likes how the pieces fit into one another as well as stack.
4. Shape Sequence Sorting Set. Red isn't able to put these in size order yet, but he likes to name the shapes and put them in the correct holes.
5. Homemade Spool Threading Set. This is a favorite toy of Red's. It's a little easier than a lacing set since it uses a dowel rod. He doesn't get as frustrated with it.
6. Heuristic Play Basket. I have left this out for several weeks, and Red never seems to get tired of it. It can be explored in so many different ways.
Books
We checked out several Valentine's Day books from the library.
I wasn't crazy about this book. It's part of a series of books, but this is the only one I've ever read. It had quite a bit of text, and the story and illustrations were a little odd to me. My husband picked up on the Led Zeppelin reference when Olive's friend Dexter sings, "Olive my love to you."
We had to return this one to the library early, so we didn't have a chance to read it as many times as the others. It's a story about an elementary class that makes Valentine's for a child in Japan, and at the end, they each receive an origami Valentine in return. It was just okay.
What Do You Love by Jonathon London was a very cute book. I couldn't find a photo link of the cover, but it follows a mommy dog and her dog son though a fun day together. It has short rhyming text. Red's favorite page said, "Ice cream bars and shooting stars." It would be fun to plan a day together doing all the fun activities in this book.
I loved this book. I liked MaryLou and Herbie, the main characters, and their cute little love poems. It did have a lot of text for a one-year-old, but Red sat and listened to it a couple times every day. He liked pointing out all the bugs.
We read this book a lot this week too. Each page has a Valentine poem a little boy has written to someone—his dog, cat, mom, dad, sister, grandma, etc. The page with the boy and his dad has a poem about making funny faces together, and now Red asks his dad to make funny faces all the time :)
Art
Red did some stamping with heart-shaped cookie cutters. He mostly just finger painted, but it was still very Valentine-y with all the pink!
We have a few more Valentine activities planned for this next week too! To see other tot school posts visit 1+1+1=1.