-Red is currently 20.5 months old-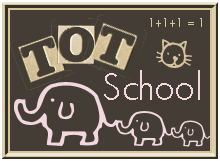 Theme: Valentine's Day/Hearts
Tot Trays & Learning Toys
1. Pegboard. Red likes to build towers with the pegs.
2. Geo Shape Sorter. Red is good at fitting the shapes into their holes, but he hasn't 'gotten' the concept of placing them short to tall. It's a good way to talk about big/small, short/tall, though.
3. Farm Puzzle. Red knows where all the animals go and likes to make the noises they make, but he sometimes struggles to get them turned just the right way.
4. Lacing Beads. Red actually worked to lace these for the first time this week. In the past he hasn't even tried. He still needs some help, but he made a great effort.
5. Tonging Hearts into a Heart Container. As you can see, Red does not love tonging. It's still too hard for him. He enjoyed taking the hearts in and out of the container, and taking the lid off and on as well. It was good opening/closing work anyway.
6. Heuristic Play Basket. (Again) I have had this out for weeks, but I feel like it has so many open-ended play possibilities that it never gets old.
7. Inchimals. This is a really neat toy that will grow with Red for a long time. He enjoys pointing out the different animals, and I try to reinforce big/small, short/tall.
Books
We had some more love-themed books from the library this week.
This book really hit my sentimental Mom feelings. A polar bear cub asks other animals how much they are loved. At the end he asks his mom how much she loves him, and she explains how she loves him with all different parts of her body, including all her heart. Red wasn't crazy about this one, though, and only let me read it once.
Red liked this one more than I did. It's a story about a cat who takes his owner for granted but learns to love her in the end. We used it to talk a lot about emotions. Mr. Pusskins is mad in the beginning, but then he transitions to sad and, finally, happy. Red is interested in emotions right now, so I think that's why he liked it. My favorite line was, "The girl's constant babbling, 'Blah-de-blah, blah, blah,' bored his whiskers off."
Red loved this one. We have several other Karen Katz books, and he loves them all. It counts through all the different types of hugs a dad gives his baby throughout the day. Every time I would read this, Red would say "Gin" (again).
Red and I both liked this one. He liked all the beautiful animal pictures. It's about a little raccoon going off to school for the first time. He doesn't want to leave his mom, but she gives him a kiss to keep with him whenever he needs it. I loved cuddling my little boy while reading this and enjoying the fact that I get to keep him with me all day.
Food
We ate heart-shaped sandwiches for lunch.
Sensory
Red played with his Valentine's sensory bin this week. It has a base of pink dyed rice with glitter hearts, mini erasers, jewels, heart buttons, and confetti.
I also let him draw with his finger in a tray lined with salt. The salt felt really cool running through your fingers.
Art
I made Valentine's out of Red's finger painting sheets. I cut out a heart, glued it to cardstock, and wrote a message on the back. His first Valentine's. Of course, I made one for myself :)
I also cut out some hearts from construction paper for Red to glue and make a heart collage.
And he also painted some artwork using those classic heart-shaped paper doilies.
It's been a fun, love-filled week here at our house. See what other tot's are learning about at Carisa's Tot School.