-Red is currently 20.5 months old-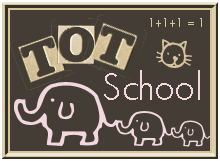 Theme: Birds
Tot Trays & Learning Toys
1. Sound Puzzle. This puzzle freaks Red out a little. He's always a little hesitant when he first starts it because of the sounds. Even though it's a little intimidating, it's his favorite puzzle by far, and it holds his attention better than any other.
2. Linking Shapes. Red is working on linking the shapes together, but it's still a little difficult for him. He likes it when I help him make chains and necklaces.
3. Stacking/Nesting Blocks. I don't have a picture of this, but we used the nesting blocks for sorting the different linking shapes. He likes to use them as containers and talk about the numbers/letters/pictures on them.
4. Pouring Beans into a Heart Container. Red likes pouring activities. He's pretty good at them too when he isn't being silly. He practiced taking the lid on and off the heart box too.
5. Putting Stir Sticks into a Parmesan Cheese Container. This is very easy for Red now, but he still enjoys it.
6. Wedgits. He also played with his Wedgits this week, but I didn't get a picture.
Books
He had a lot of bird-themed library books this week.
This was a simple book with striking illustrations. It's full of random musing about birds from a little girl's perspective. My favorite line was, "If there are lots of birds in one tree and they all fly away at the same time, it looks like the tree yelled, 'SURPRISE!'"
This book was a little odd for me. The jacket cover says it is a "beloved nonsense poem," and I'd say that's pretty accurate. It's all about an owl and cat who run away together and get married. It's probably one of those that you love if you grew up with it.
I loved, loved, loved the illustrations in this one. The text was cute, and Red enjoyed it a lot. It captivated his attention, which is always key at this age. It's about three owl babies who are waiting for their mother to return.
This book was a little difficult for me to read. It's full of word balloons with the sounds birds make. We only read this one once.
This book has a lot of detailed information about barn owls. It would be great for an older child. Red sat through it, but a lot of the nuanced information was lost on him.
Red LOVED this one. It was his favorite of the week. It's a cute little story about a gosling who likes to wear red boots. Delightfully simple text and cute illustrations. We read it many times.
Sensory
In a subtle nod to bird nests, we played with colored spaghetti this week.
Art
We made paper birds and flew them around the house.
Red also painted a miniature bird house.
And he painted using feathers.
See what other tots are learning about this week at 1+1+1=1's Tot School.