-Red is currently 20 months old-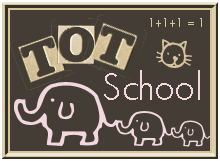 We had a bit of a bug issue to clear up this week, so it was a light week for tot school.
Theme: Football
Tot Trays & Learning Toys
1. Noah's Ark Shape Sorter. He still doesn't put the animals in the correct holes, but he enjoys matching them up and dropping them in the boat.
2. Colorful Caterpillars Game. We just used the red one to practice stringing beads. This lacing activity seemed to hold his interest better than any I've tried before.
3. Screw Block. He isn't able to do this independently yet, but he still enjoys trying and says "Turn, turn" when we twist them in and out.
4. Latches Board. He still struggles with a lot of these latches, but he is good at counting the animals behind the doors and naming the colors.
5. Imaginets. We play with these magnetic pattern blocks without the construction cards. Sometimes we sort the blocks by color or we talk about the shapes or we'll build pictures, like a sun or a car.
6. Rainbow Blocks. These blocks are filled with different sizes and quantities of beads, so they're fun to shake and watch move around. Despite his face, he does like to play with them.
Books
Red enjoyed his football books from the library this week.
This book has too much text for a one-year-old, but it makes up for it with real photographs of kids playing football. We mainly read the picture captions and looked at the photos.
This one has the perfect amount of text for a one-year-old, and it also has great photos of kids playing football. I'd recommend it.
This book is another that has a lot of text and is geared toward a much older child, but Red still enjoyed looking at the pictures. It featured more history of the game, and the photos were of professional players, stadiums, etc…not just kids.
Again, this book is geared toward a much older child, but there are illustrations on every page, and surprisingly, Red sat and listened to the whole story a couple different times. Lucy tricks Charlie Brown throughout the book, so it might be important to talk about the consequences of this, but we mainly just enjoyed it as a fun story.
This is a cute book about a boy who doesn't 'look' like a football player, but is eventually given a chance to succeed. In the end, he doesn't win the game but is happy to hear that another player who looks different (she's a girl) is given a chance and wins the game for her team. Red liked this one and even learned the word 'hero' from it.
We didn't get around to any other special activities this week, just the usual coloring, painting, play dough, etc. Next week I hope to be back on track, though!
To see more tots and their learning experiences visit tot school at 1+1+1=1.