-Red is currently 21 months old-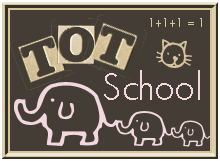 Theme: St. Patrick's Day
Tot Trays & Learning Toys
1. Foam Blocks. I got these great foam blocks at a consignment sale. Red loves to fit the circle block into the square.
2. This puzzle is another consignment sale find. Red is good at matching the pieces to the correct space, but he will often get frustrated trying to turn it just right to fit it in.
3. Ring-a-Thing Game. Red hasn't quite gotten down the concept of roll the die then put the color ring on. But he is really good at matching the correct color to the person.
4. Putting Straws into the Holes of an Empty Strawberry Container. He did pretty well with this one when he wasn't chewing on the straws.
5. Lacing Beads onto a Dowel Rod. Lacing the beads onto a string is still a little challenging, so we've been using dowel rods instead.
6. Shape Sequence Sorting Set. He decided to stack the pieces by shape this week.
Books
This was a great book for Red's age, and we both loved the vibrant illustrations and cute rhyming story all about St. Patrick's Day.
The rest of the books had too much text for Red's attention span. We never read through any of them the whole way, but we did look at the illustrations and make up our own stories!
Sensory
I made a St. Patrick's Day sensory bin using dried split peas as a base.
It's filled with stickers, confetti, charms, garland, and a plastic hat.
I also made some new play dough using this recipe. I made it green with gold glitter for St. Patty's.
I usually put out some traditional play dough too, and we used it to make a pot of gold.
Art
Red worked on a wall collage with various green objects with different textures and shapes.
He also made coffee filter shamrocks. I cut the filters into the shape of the leaves, and he used dot painters to decorate them.
Then Friday, he did some stamping with potatoes. Because what's more Irish than potatoes?
Visit 1+1+1=1's Tot School to see what other tots are learning about this week.