-Red is currently 21 months old-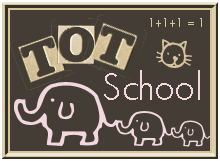 Theme: St. Patrick's Day
Tot Trays & Learning Toys
1. Little People Jungle Blocks. Red loves this set of blocks. I think because it comes with a monkey and a zebra. They are also easy enough for him to snap together without getting frustrated.
2. Magnetic Fishing Numbers. Red likes to name the different sea creatures, and we use them to talk about numbers too. It's great for working on concentration and hand-eye coordination.
3. Vehicle Sound Puzzle. This is still Red's favorite puzzle, because of all the sounds it makes.
4. Pouring Beans into a Plastic Hat. Red does really well with pouring activities if he takes his time. He usually has one big spill resulting from going too fast.
5. Wedgits. Another great building set.
Books
This book is geared toward early readers, so the text is very simplistic. I was a little bored by it, but Red liked it a lot. I think mainly because he loves anything dragon-related.
Red loved, loved, loved this one. It was a pretty cute story about a rabbit who loses his shamrocks and goes around asking the other animals if they've seen them. We read this on a loooot.
This one has quite a bit of text. We skimmed through it and just read one line from each letter. It was a little over his level, but we still looked through it a few times.
I don't think we ever read this one. It was a little too advanced as well. We were too busy reading Green Shamrocks over and over!
Ditto for this one.
Sensory
We made a green gelatin sensory bin to play in.
We also ate green smoothie pops, which turned into a sensory experience!
Art
Red painted a shamrock made out of sand paper. This one could count as a sensory experience too!
Pretend Play
Then we pretended to be leprechauns hunting for gold.
To see what other tots are learning about this week, visit 1+1+1=1's Tot School.