-Red is currently 21 months old-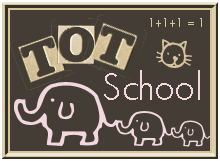 Theme: Spring
Tot Trays & Learning Toys
1. Foam Puzzles (from a consignment sale). Red was really intrigued by these puzzles and enjoyed popping the pieces out, but they were difficult for him to put back together.
2. Stacking Pegs. Red enjoys making towers with the pegs.
3. Geo Sorter. Red is good at fitting the shapes in the right holes. This week it served as a playground for Mickey Mouse.
4. Gears! Gears! Gears! Building Set. Red had a little trouble fitting the gears in just the right way, but he liked to watch them turn.
5. Nesting Blocks. These also served as a playground for his Disney characters this week :)
6. Threading Spools and Washers on Dowel Rods. He focused more on stacking the spools and washers than threading them this week.
Books
This was a really cute book with vibrant pictures and fun rhyming lines about Spring. It was perfect for Red's age level.
This was another cute book about the changing seasons. It focused a lot on winter but ended with the coming of Spring. It was also appropriate for Red's age.
This book was geared for older children, but it had lots of great information and wonderful photographs of things that happen in the Spring. We both still enjoyed it.
This was a fun book about a mole who tries to wake up his friend, Bear, because Spring is here. This was one of Red's favorites of the bunch. It was perfect for a young toddler.
This book had short, snappy rhyming text and interesting illustrations. They look almost like claymation or something. It held Red's attention many times through.
Sensory
We made some play dough flowers with straw stems. Red had so much fun with the play dough that he didn't want to put it away even to watch Sesame Street!
Art
Red used a soda bottle to make flower prints.
He also helped me gather some flowers in the yard for a Spring collage.
And one rainy Spring day we went outside a drew chalk flowers on black paper.
We've had amazing Spring weather to go with our theme this week. It's nice when the weather can cooperate with our tot school plans ;)
To see what other toddlers are learning about this week, visit Tot School at 1+1+1=1.