-Red is currently 21 months old-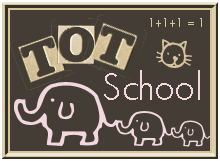 Theme: Sun
Tot Trays & Learning Toys
1. Spooning Beads into an Ice Cube Tray. Red did really well with his one-to-one correspondence (one bead per hole), but he did not care for the spoon. The beads kept sliding off and frustrating him, so he just put them in with his fingers.
2. Puzzle. We got his puzzle at a consignment sale. I like how simple it is and that it reinforces his shapes. It's still a little challenging for him to get the pieces turned the right way to form the shapes.
3. Discovery Toys Builders, Benders and More. I got this toy off Ebay, and I don't think they're making it anymore. We use the pieces to build houses and people together.
4. Putting stir sticks into a wiffle ball. Red likes this work, and it's challenging for him to get it through both holes and out the other side.
Books
This book was waaay too advanced for Red, but it had nice illustrations, and we still enjoyed looking through the pictures. When I reserve books online at our library, I can't always tell what level they are, but we usually get something out of them even if they are too advanced.
This book was perfect for Red's age. It had cute rhyming text about a girl deciding what to wear based on the changing weather outside. The illustrations are cute a vivid as well.
This one had quite a bit of text, but Red was engaged enough to sit through most of it. He enjoyed the pictures of all the different animals. The story is about a hedgehog who builds a tree house so he can see the sun above the trees.
This short board book features the classic song it is named after. This song is very familiar to Red, because we sing it at bedtime, and he enjoyed the book.
This book wasn't really about the sun. It was a collection of nursery rhymes. We love nursery rhymes around here, so it was a hit. There were many that we knew, and a few new ones too. The illustrations were cute and playful.
Art
We had a light week of activities, because Red was sick this week. But we did make this sparkly sun from No Time for Flash Cards.
The weather was nice, so we took the paint and paintbrush outside. It was fitting to make our suns out in the sun!
His favorite part was definitely the glitter!
To see what other tots are learning about this week, check out Tot School at 1+1+1=1.