-Red is currently 21 months old-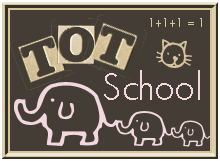 Theme: Easter
Tot Trays & Learning Toys
1. Imaginets. This was Red's favorite learning toy this week. He played with it for 20 minutes straight on a couple different days!
2. Connect Four. He also enjoyed putting the chips into the Connect Four board. This activity seems calming for him. He very methodically and patiently puts every chip in, and then he will release them and do it again.
3. Zoo Sound Puzzle. The Melissa & Doug sound puzzles are Red's favorite. We have this zoo one and a transportation one, and he loves them both.
4. Latches Board. Red likes to open the doors and count the animals inside, but he has little interest in the latches themselves.
5. Twig Blocks. These fun, colorful blocks are some of Red's favorites. He likes to fit the small pieces into the holes in the larger ones.
Books
Red and I both liked this cute poem based on the classic "The Night Before Christmas." We read it many times, and it kept his attention.
This classic book was another hit. It really captivated Red, and he seemed to get wrapped up in the story. The only negative was that the bunny and duck throw rocks at each other at one point, and that is an issue for us. But other than that, it was a great book.
This book was definitely Red's favorite. Every time I finished he would say, "Gin" (again). It was a cute story that made me smile. We always seem to like the books in this series.
This one wasn't such a hit. We never got all the way through it. It was too long for Red's attention.
This one was an even bigger flop. It was way too long for Red, and he never even let me read past the first page.
Sensory
Red played with a new Easter sensory bin filled with Easter grass and packing peanuts.
I also made him a new play dough tray with purple lavender-scented play dough.
Art
We didn't get a chance to do all the art activities I had planned, but we did make time for some flyswatter painting.
To see what other toddlers are learning about this week, visit Tot School at 1+1+1=1.