-Red is currently 22 months old-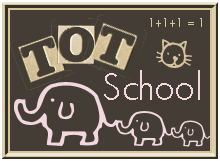 Theme: Baseball
Tot Trays & Learning Toys
1. Colorful Caterpillars Game. This game has 2 dice that you roll that show you what color and shape piece to thread onto your caterpillar. Red still needs quite a bit of help, but he is starting to catch on to how it works.
2. Beginner Pattern Blocks. This was Red's first time trying these, and he did really well. He had a little trouble lining up the triangles, but he was able to match up the shapes correctly on all of them.
3. Rainbow Sound Blocks. These blocks are transparent, and they have different beads inside, so they make different sounds when you shake them. Red likes watching the beads, shaking them, and building towers.
4. Pop Beads. These beads are too difficult for Red to snap together, but he enjoys manipulating them. I made him a bracelet to wear, and he kept calling it his watch :) We sorted them and made chains.
5. Magneatos. Red likes this fun magnetic building set. He put one of the balls on a straight piece and called it his microphone :)
6. Color/Texture Puzzles. Red likes these puzzles, but he needs a lot of help. He can match them up if I limit the number of choices.
Books
This book was about an all-black Little League team in the South fighting to play baseball. It is a true story, and I had never heard it before. It was really interesting, but waay too long for Red. I read it to him while he played, but he lost interest pretty quickly.
Red loved this book and asked for it by name many times. It's about a little duck playing in his first big baseball game. He loved it.
Red was only mildly interested in this one. It had a little too much text for him. As you might guess, it goes through the alphabet naming baseball-related objects for each letter.
Red likes these simple non-fiction books, because they have great photographs. It was geared for much older children, but we flip through and talk about the photos.
He likes this book for the same reason as the previous one.
Sensory
Red enjoyed these very popular water beads. They were a great sensory experience. He kept saying, "It's squishy!"
Art
I gave Red a spiky ball to do a little ball painting.
To see what other toddlers are learning about this week, visit Tot School at 1+1+1=1.