-Red is currently 22 months old-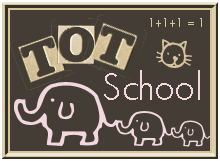 Theme: Bubbles
Tot Trays & Learning Toys
1. Magnetic Dress-Up. Red is getting better at recognizing where to put different clothing items (hats on heads, pants on legs, etc.)
2. Luigi's Tire Tower Game. Red enjoyed stacking the tires into a tower, but he hasn't gotten the hang of using the hook yet. We didn't play by the rules of the game. As he gets older, we can start to play it more as a game.
3. Vehicle Sound Puzzle. Red has gotten really good at this puzzle. It's almost too easy for him, but he still enjoys it.
4. Lincoln Logs. These were difficult for Red to build with, but he enjoyed just manipulating the pieces.
Books
I had trouble finding books about bubbles this week, so I picked some that were only loosely related (like they had the word 'Pop.')
Red enjoyed this one. It had very simple text about blowing bubbles. He liked it but didn't request it repeatedly.
This book was a tongue-twister about a baby who gets carried away in a bubble. I had a lot of fun reading it (I enjoy a challenge :). It has a rhyming text and some tongue twisters that were almost Fox in Sox-worthy. Red thought it was okay, but I don't think he understood a lot of it. I probably had more fun with it than him.
Red chose this one to read many times. I think the bubble gum intrigued him. It was a little long for his attention, but he was drawn to it several times. As the title indicates, it's about the invention of bubble gum.
This book had nothing to do with bubbles. It features a lot of onomatopoeia words that one might encounter during a day at the farm. Red thought it was okay.
This one also had nothing to do with bubbles. Red never wanted to read it, but I read it to myself and thought it was a very sweet Cinderella-type story with a modern American Idol twist.
Sensory
Red had a lot of fun blowing bubbles with his bubble sensory bin.
Art
I added some texture to his painting this week and let him paint on bubble wrap.
He also experimented by painting with bubble wands.
To see what other tots are learning about this week, visit Tot School at 1+1+1=1.