-Red is currently 22 months old-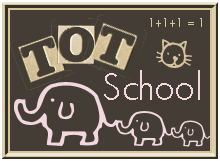 Theme: Butterflies
Tot Trays & Learning Toys
1. Pouring Beans. Red enjoys pouring activities and usually does pretty well with them.
2. Ring a Thing Game. Red loves these cute little peg people. We've been working on rolling the die and putting the correct ring on. I'm looking forward to being able to play games together!
3. Hand Puzzle. I got this hand puzzle at CVS for $1. All the fingers are numbered, so it was good practice counting them as we put them in. He needed quite a bit of help on this.
4. Threading Washers and Spools onto Dowel Rods. This toy has gotten a lot of use. It's as simple as putting some washers, spools and dowel rods together and letting him explore.
Books
This was probably Red's favorite book this week. We definitely read it the most. The title pretty much explains what the story is about. I didn't care for it very much but that's okay. I enjoy reading with him even if I don't love the material :)
We didn't ever get all the way through this book; it's pretty long. But it was very informative and had engaging illustrations. I was reading it to Red while he played next to me, and I read that a butterfly tongue is called a proboscis, and he yelled "Proboscis!" over and over. It was too funny :)
This book had great photographs of butterflies at every stage of the life cycle. Red enjoyed looking at all the photos.
This was another long one that I read to Red while he played next to me. It was a beautiful story about a mother and daughter discovering a migratory group of monarch butterflies and the memory they would always share. The illustrations were beautiful too.
Art
Red made a coffee filter butterfly and decorated it with colored glue. He loved getting to have full control of the glue bottle :)
He also made a butterfly collage out of contact paper and scraps of ribbon.
Fun
For Easter, Red's grandparents got him this butterfly garden. We had spent weeks watching the caterpillars grow and build cocoons, and this week they finally emerged—just in time for butterfly week!
He enjoyed feeding them orange slices and watching them while he had his snack.
To see what other tots are learning about this week, visit Tot School at 1+1+1=1.