-Red is currently 22 months old-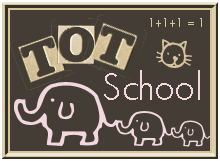 Theme: Easter
Tot Trays & Learning Toys
1. Red worked on new puzzle this week. This one was a little harder than his others, because it doesn't have a picture of the puzzle piece on the board underneath. He did really well with it.
2. Screw Block. He played with his screw block this week too. This is very challenging for him, but he's interested in it and motivated to work on it.
3. Busy Bugs. He worked with his busy bugs set a little as well. He isn't able to follow the directions on the cards very well yet, but he enjoys playing with the bugs and naming them and their colors.
4. Flip Flop Faces. He had a lot of fun with his beanbag toss game. He's starting to get interested in the faces on the bowls too, naming them happy, sad, sleepy, etc.
Books
This book isn't actually about Easter. It features Max & Ruby, which I think are characters from a television show, but we've never seen it. The brother & sister pair go into town to buy a birthday present for their grandma and learn a lesson about money.
This book covered many different aspects of Easter. I really liked that it featured a multi-racial family. It had vibrant illustrations and held Red's attention.
This one was probably my favorite this week. The rhyming text features a raven who flies off to alert the animals that Easter is coming. Beautiful illustrations and a cute story. It was perfect for Red's age.
Red liked this book about Noodles the dog. It is very basic, but he enjoyed it. Noodle's teddy bear is missing. He goes out to find him and discovers some Easter eggs that he shares with other animals. He is reunited with Teddy at the end.
Red enjoys these classic Little Critter books. This one has fold-out flaps, which are always a hit. The story follows Little Critter through his Easter day. He goes to church, dyes eggs, goes egg hunting, gets a rabbit, and has dinner with all his family.
Sensory
He played with his lavender-scented play dough and some bottle caps this week.
Art
Red finger painted a tape resist cross.
He also did some abstract painting with a plastic fork and chopsticks.
Happy Easter!
To see what other toddlers are learning about this week, visit 1+1+1=1's Tot School.