-Red is currently 23 months old-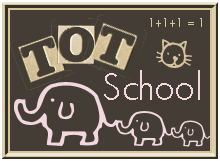 Letter: S
Theme: Stars
Tot Trays & Learning Toys
I haven't been as good about capturing Red playing with his trays the past couple of weeks. I still rotate 6 new trays/learning toys onto his shelves each week, and we're still very much focused on play; I just haven't had my camera handy.
1. Pushing beads through holes in a shoebox.
Letter Work
Red used the tot school printables from 1+1+1=1 again this week.
He also made a collage of things that start with the letter "S".
We played a game with his beanbag letters.
And made S's out of play dough.
I set up a game for him to sort capital and lower case S's into separate parmesan cheese containers, but he is not very fond of sorting yet. He just likes to put the chips into the containers, which is fine.
He hunted for objects that start with the letter "S" in his letter rice bin.
And I made him a tactile letter "S" to trace with his finger. This one is made out of sandpaper.
Art
Red made the "S" craft from No Time for Flash Cards. See the link for instructions.
He also painted a flower pot for my mom for Mother's Day. After it dried he helped me plant a flower in it.
Sensory
I made a star sensory bin for Red to explore.
Books
This was Red's favorite book of the week. It adds many extra verses to the traditional "Twinkle, Twinkle Little Star" song that tell the story of a little girl who makes a wish on a star and travels into space to see the planets and look down on Earth. In the end she returns to her bed to gaze up at the magical star.
This book also follows the song of "Twinkle, Twinkle Little Star," and I believe the extra verses are true to the original. The illustrations are beautiful. They depict a squirrel who travels from his nest out across the sea and up into the air.
This is a cute book about a boy who tries everything to capture a star, and in the end he finds a starfish, and takes it home triumphantly. It was perfect for Red's attention span.
I didn't love this one, but Red enjoyed it. It goes through the alphabet while telling the story of Max and his trouble with ants. Max and Ruby try everything to get rid of the ants, and in the end they are returned to their ant farm.
Red wasn't crazy about this one. It went through the alphabet highlighting words with each letter that relate to gardening. It was great for introducing some new words, like "topiary," but he only listened to it once.
To see what other tots are learning about this week, visit tot school at 1+1+1=1!