-Red is currently 23 months old-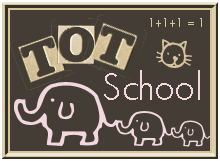 Letter: M
Theme: Mice
Tot Trays & Learning Toys
1. Honeybee Tree Game. Red enjoyed playing with the pieces of this game. We never actually played it, but it's great for pretending.
2. Rainbow Sound Blocks. He enjoys shaking these to hear the different sounds. He also has fun making towers and putting them in/taking them out of their box.
3. Shape Sequence Sorting Set. He likes to fit the pieces together, but he hasn't mastered putting them in size order yet.
4. Lacing Beads. We laced these together. He still has trouble doing it on his own, but he does well when he works with me.
Letter Work
Red used the printables from 1+1+1=1 again this week.
He also made a collage of words that start with the letter "M."
And he played a game with his letter beanbags. The game came from one of Carisa's posts that I read, but basically, I tell him what letter to find, and if he finds it correctly, then I become the beanbag monster and eat it up. It inspires lots of giggles.
He also helped me make an "M" out of play dough.
He sorted capital and lower case "M's" into separate cheese containers. He actually made an effort to sort them this week.
I made him a tactile letter "M" out of cardboard.
And he searched for objects that start with the letter "M" in his rice bin.
Art
I helped him make the mouse craft from No Time for Flash Cards. See the link for details.
He also painted rocks. When they were dry we glued eyes on them and drew tails so they would look like abstract mice.
Pretend Play
I made Red a house for his mice out of a shoebox. His favorite activity was bathing them in the butter tub.
Books
Red LOVED his mouse books this week. I'm afraid we're going to have a meltdown when we have to return them to the library tomorrow.
He absolutely loved this one, and I probably read it at least 20 times this week. It's narrated from the reader's point of view, as if you are talking to the mouse. After warning the mouse about the big, hungry bear, you convince him to share the strawberry with you in order to save it…sneaky.
He also loved this classic fable from Aesop about the mouse who begs the lion to spare her life, and in return she will return the favor. The lion thinks this is preposterous, but the mouse is able to rescue him from a net and repay her debt.
And he loved this fun story about a mouse and all his repeated requests that lead the boy full circle. That's not a very good description, but I think everyone knows this classic tale.
He liked this one a lot too, and requested it many times. It goes through the alphabet using examples of classic American institutions to represent each letter, i.e. A is for apple pie, B is for baseball…
I may have liked this one more than him. It has stunning illustrations and uses an alliterative phrase for each letter of the alphabet. The pictures are chocked full of items starting with the letter. Red's favorite was the dragon on the D page. He has a thing for dragons.
To see what other tots are learning about this week, visit tot school at 1+1+1=1!