-Red is currently 23 months old-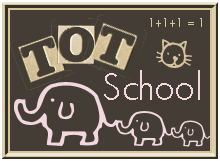 Letter: D
Theme: Ducks
Tot Trays & Learning Toys
1. Melissa & Doug Bead Sequencing Set. Red wasn't able to sequence these on his own yet, but he liked to stack them onto the dowel rod and name the colors.
2. Discovery Toys Builders, Benders and More. Red likes to build houses and cars out of these building pegs. The pegs look a little like people, so they go inside or drive around.
3. Alphabet Puzzle. He loved this alphabet puzzle and did it many times.
Letter Work
We started using Carisa's alphabet printables this week. I thought I'd test the waters and see if Red was interested, and he loved it. He loves working with letters, so the coloring sheets were a natural extension of that.
Along with the printables, he hunted for letter 'D' objects in our rainbow rice bin (Spell Outloud).
We made a letter "D" out of play dough. He wanted to do this several times.
He played a game where he was supposed to match popsicle sticks with a capital "D" to the container with a capital "D" and sticks with a lower case "d" to the container with lower case "d". I think he knows which is capital and which is lower case, but he was not interested in sorting them correctly. He just had fun putting them in and taking them out.
I made him a tactile letter 'D' by cutting it out of foam and taping it to a piece of cardstock (No Time for Flash Cards). I think he's about to sneeze in this pic ;)
Pretend
He enjoyed taking his rubber duckies out for a swim in the "pond."
Art
He dot painted a duck and then glued feathers to it.
He also did some painting with his rubber duckies, stamping and sliding them on the page.
Books
Red enjoyed this book a lot. The dinosaur names are almost impossible to read, but I faked it the best I could! It goes through every letter of the alphabet and names a dinosaur that begins with that letter. How would you say "Xuanhuaceratops?"
This is a cute book about a letter "Z" that goes on a journey, and along the way, it sees letters in hidden in the scenery. For example, the letter "B" is turned on its side and forms a bridge. Red enjoyed finding all the letters.
This was Red's favorite book of the week. It's a quirky little story about a duck that likes his routine and hates the ruckus of the other animals. But in the end, Mr. Duck learns that a little ruckus every now and then makes life more fun.
This book was another favorite. It's about a girl's rubber ducky that experiences a series of unfortunate events that lead it to be left at the park, but it finds his way back home to Jane who is happy to have him return.
This book is great for 2-year-olds—sturdy pages and brief text. Duck plays a game of hide-and-seek with his friend bunny. He doesn't realize that bunny is behind him on every page. Red enjoyed pointing out the bunny. In the end, they switch places and it's duck's turn to sneak behind bunny.
Fun
We ended duck week with a trip to the park to feed the ducks and some ice cream. Red even got to see some baby ducks with their mother.