-Red is currently 27 months old-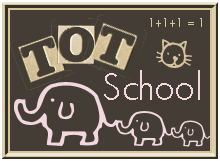 Letter: J
Theme: Jellyfish/Ocean
Tot Trays & Learning Toys
1. Magnetic Alphabet Puzzle Book. Red loves all things alphabet-related (he's kinda nerdy like that ;), so this puzzle book was right up his alley.
2. Shape Puzzle. I got this one at a consignment sale, so I don't know the brand. It's pretty easy for him to complete, but he still has interest in it.
3. Pouring beans from a measuring cup. Red has worked on pouring beans from a miniature pitcher before, but this was his first time with a measuring cup.
4. Unifix Cubes. Another tray involved copying abab color patterns with blocks. He wasn't very interested in this one.
5. Putting beads into a mini ice cube mold. Red did enjoy putting beads into the holes of this ice cube tray. We worked on putting one bead per hole. It was great for 1:1 correspondence as well as his pincer grasp.
6. Stacking Pegs. Red wasn't very interested in this tray this week.
Letter Work
Red used the letter "J" printables from 1+1+1=1.
He also played with a salt tray. I made the letter "J" for him.
While he did a lot of this:
And this:
He matched up bottle cap letters to spell the word "jellyfish."
Then he played with a tactile letter I made out of foam. He wanted to match his bottle cap letter "j" to it.
Art
Red used some water colors to paint an ocean scene. He added some ocean animal stickers to it after it dried.
Then we made a jellyfish out of a plastic cup and some crepe paper and ribbons. He enjoyed swimming it through the air.
Red's babysitter helped him make this cute handprint jellyfish scene.
Sensory
Red played with an ocean sensory bin I made using water beads.
Books
Favorite ocean-themed books this week:
We also read this alphabet book. It was very simple, but it was fun because it showed the sign language for each letter and word.
To see what other tots are learning about this week, visit Tot School at 1+1+1=1.