-Red is currently 27 months old-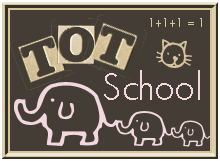 Letter: C
Theme: Cats/Pets
We're back! We took a loong break from tot school over the summer. I hadn't even planned it, but we both (mostly me, really) needed a break. After reading many books and spending a lot of afternoons at the pool, I'm excited to get back in the swing of things again, though!
Tot Trays & Learning Toys
1. These interlocking foam puzzles are from a consignment sale. They each have just two pieces to put in place, so they are really good for him right now since he's a little past the standard wooden peg puzzles but not ready for the ones with many pieces.
2. Wooden Sound Blocks. He enjoyed stacking these blocks, but even more fun was looking through the colored plastic windows and shaking them!
3. Shape Sorter. He did really well with this shape sorting board. He liked to line them up on the floor. He arranged them all and told me "Look at my beautiful monster, Mommy!"
Here he is showing me that he made a diamond with 2 triangles.
4. Sticker Sheets. I made him a variety of sticker sheets that he could match. The one below is numbers. Those dot stickers are challenging for him to peel off by himself, but they are perfect for working on that pincer grasp.
I also made a letter one and one that was just colors.
5. Stringing beads onto pipe cleaners. He did really well with this. I don't think he would have been able to do this back in May when we last worked on trays. It's amazing how much he's developed since then.
6. Putting pegs into an empty wipes container. We worked on counting the pegs as he put them in to reinforce 1:1 correspondence.
Letter Work
Red used the letter "C" printables from 1+1+1=1.
He also played with a rice bin filled with items that start with the letter "C."
I cut out some pictures of things out of magazines that start with the letter "C," and he glued them to a page to make a collage.
We also used glass stones to make a letter "C" in his play dough. I laid them out and let him press them in.
Art
I helped him paint a hat like the Cat in the Hat wears.
Books
We read a lot of cute books about cats/pets this week. Here were some of the best:
I've also been trying to check out a few alphabet books each week, since we're working on letters. I would say these were only okay, in terms of keeping his attention:
It took a little tweaking to our routine to get us back in "school" mode, but Red enjoyed all his activities, and I think this next week will be even smoother.
To see what other tots are learning about this week, check out Tot School at 1+1+1=1.